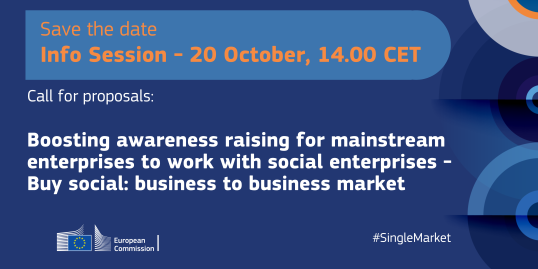 On 20 October 2022, the European Innovation Council and SMEs Executive Agency (EISMEA) and the Directorate-General for Internal Market, Industry, Entrepreneurship and SMEs (DG GROW) are organising an informative webinar to learn more about the Single Market Programme Call for Proposals titled "Boosting awareness raising for mainstream enterprises to work with social enterprises - Buy social: business to business market".
The main objective for this call for proposals is to enable local, regional or national "Buy Social: B2B markets" by building partnerships (local, regional or national) and facilitating trade relationships between SE entities and mainstream businesses (B2B). More details on the call are described in the Call page and on the Call document.
The submission deadline is 7 December 2022, 17:00 CET with expected grants start date in April 2023. For more information about the calls check the Call page and the Funding & tender opportunities portal.

Interested in attending this Info Session and learn more about this call's policy context and requirements, and how to submit a better proposal? Registrations are now open, click on the register button below if you want to attend. 
social economy

Thursday 20 October 2022, 14:00 - 17:00 (CEST)
Programme
20 Oct 2022, 14:00 - 14:10 (CEST)

Welcome and opening

14:10 - 14:40 (CEST)

Policy background with objectives, expected activities and deliverables

14:40 - 14:45 (CEST)

Short break 

14:45 - 15:15 (CEST)

Call requirements, eligibility, proposal template, and evaluation

15:15 - 15:30 (CEST)

Cost categories, eligibility of costs, detailed budget template

15:15 - 15:20 (CEST)

Short break
Practical information
When

Thursday 20 October 2022, 14:00 - 17:00 (CEST)

Languages

English