Become an EIC Programme Manager and lead the next wave of European deep-tech innovation. Deadline extended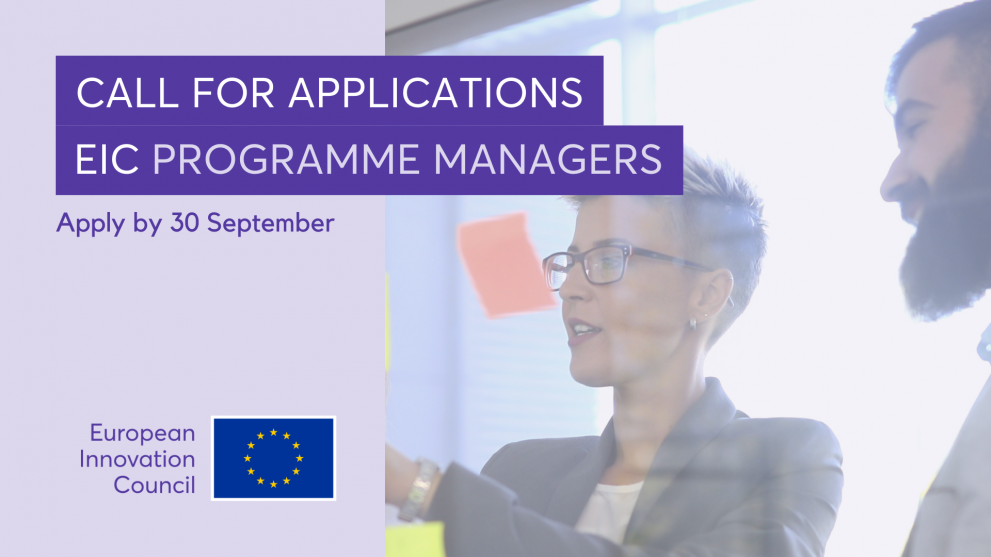 The European Innovation Council and SMEs Executive Agency (​EISMEA) published a call for expression of interest to recruit up to six European Innovation Council (EIC) Programme Managers (PMs).
Currently four EIC PMs are already proactively managing portfolio of high-risk, high-impact projects in biotechnology and health, med-tech and medical devices, materials for energy and environment and energy systems. With this call the EIC aims to further expand its activities into other technological areas.
EISMEA values diversity and is committed to creating an inclusive working environment for all. For this call, women candidates are particularly encouraged to apply.
A look into the role with current Programme Managers:
The European Innovation Council and SME Executive Agency (EISMEA) is responsible for developing and implementing the European Innovation Council under the guidance of an independent EIC Board and in cooperation with investments made by the EIC Fund. The Agency also manages other EU programmes in the fields of SME support, innovation ecosystems, single market, consumer policy and interregional innovation investments.
We employ highly qualified and motivated professionals who are experts in their respective fields from 27 EU Member States making EISMEA a culturally diverse and interesting place to work.
If you have a question, comment or request, get in touch. Our website offers the possibility to contact the Agency by using a contact form.
The EIC aims at identifying and supporting
breakthrough technologies and innovations
with the potential to scale up internationally.
Part of the Single Market Programme covering competitiveness of enterprises, governance of the internal market and standardisation and consumers.
The new instrument of the ERDF aims to strengthen economic cohesion in the EU by helping businesses work with innovation actors in other regions.
Find open and upcoming calls for funding proposals, get background information on funding processes and programmes, and apply online
Check out the upcoming and ongoing procurement procedures
EISMEA news
Deadline extended - apply until 18 November
The 2021 European Social Innovators' Insight Report published
Six Programme Managers to be recruited
News from the European Innovation Council
Deadline extended until 18 November 2021
The European Innovation Procurement Awards recognise powerful cases of public and private buyers on using innovation procurement practices across Europe.
European Innovation Council (EIC) and Startup Europe join forces to boost digital and deep tech startup growth
European Innovation Council events
"European Innovation Ecosystems" and "Startup Europe" calls for proposals - 21 September 2021
Join us online on 7 October
The European Innovation Council Summit will be held in Brussels on 24 - 25 November 2021