A conference for innovators, incubators, financiers and game-changers in the fashion tech space, DeFINE Forum 2021 is challenging the status quo by bringing, to the forefront, the opportunity to connect with progressive fashion tech startups and explore strategies and ideas from experts in this space.
Driven to challenge, connect, and create, the DeFINE Forum 2021 will take place on 29 April 2021. 
textile industry | new technology

Thursday 29 April 2021, 10:30 - 17:00 (CEST)
Practical information
When

Thursday 29 April 2021, 10:30 - 17:00 (CEST)

Languages

English

Website
Description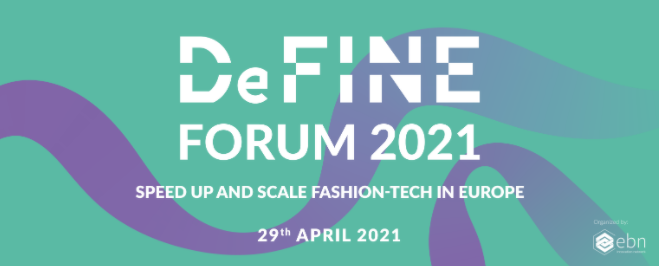 In the morning, the DeFINE Forum 2021 will explore the latest innovation and market trends in Fashion-Tech. When it comes to the growth of the fashion-tech sector in Europe, innovation has brought much-needed improvements to the fashion industry. Although some of the technology is relatively still at the early stage, some fashion businesses can, through experimentation or knowledge-sharing, still reap some real growth opportunities from the new technologies. As European inventors, groundbreakers, and pioneers of tomorrow continue to drive forward the fusion of cutting-edge technologies with fashion with their fresh perspective, what are the challenges and the benefits of investing in these innovations?
The afternoon sessions will examine the best set of tools for supporting Fashion-tech start-ups, with a special focus on the support provided by incubators, accelerators, and policymakers (at a national and EU level). Navigating through the volatile fashion-tech space can require a tailored approach built on advice and guidance. Many transformative ideas have become great through support, mentoring and coaching from experts from the fashion industry, the startup scenes, and good policy. Exploring the importance of innovation and business support for fashion-tech communities, the conversation will focus on the key drivers aiding the evolution of the Fashion-tech ecosystem.