Welcome by the Head of Unit - from 06' 08'' 
Policy context - from 14' 35'' 
Call Presentation - from 39' 05'' 
Financial aspects - from 1h 12' 32'' 
Q & A - from 1h 39' 36'' 
Public Procurement Information Day 2021 - PPT
English
Download
About this call:
The available call budget is estimated at €4 000 000. The awarding authority plans to award two to three proposals.
The general objective of the Call is to enhance the internal market through public procurement of innovation contributing to the transition toward a more competitive, digital, green and social economy.
The European Commission is seeking innovations not yet commercially available on a large scale, but can be if public buyers unite as a launching customer and are ready to implement the innovative technology together with the supply side, particularly SMEs.
More specifically, the Call intends to support proposals that exploit public procurement as a tool to foster innovation where there is a strong public interest and the potential to generate a positive societal impact, in particular in the area of digital transformation, public health and green transformation.
Moreover, the successful proposals should contribute to capacity building and knowledge transfer on public procurement of innovation, thereby increasing the number of procurers involved in the process as participants, followers or observers and developing tools and knowledge for its replication.
Stay tuned and receive the latest details and call updates.
public procurement | innovation

Wednesday 9 March 2022, 10:00 - 12:30 (CET)
Practical information
When

Wednesday 9 March 2022, 10:00 - 12:30 (CET)

Languages

English

Organisers
Description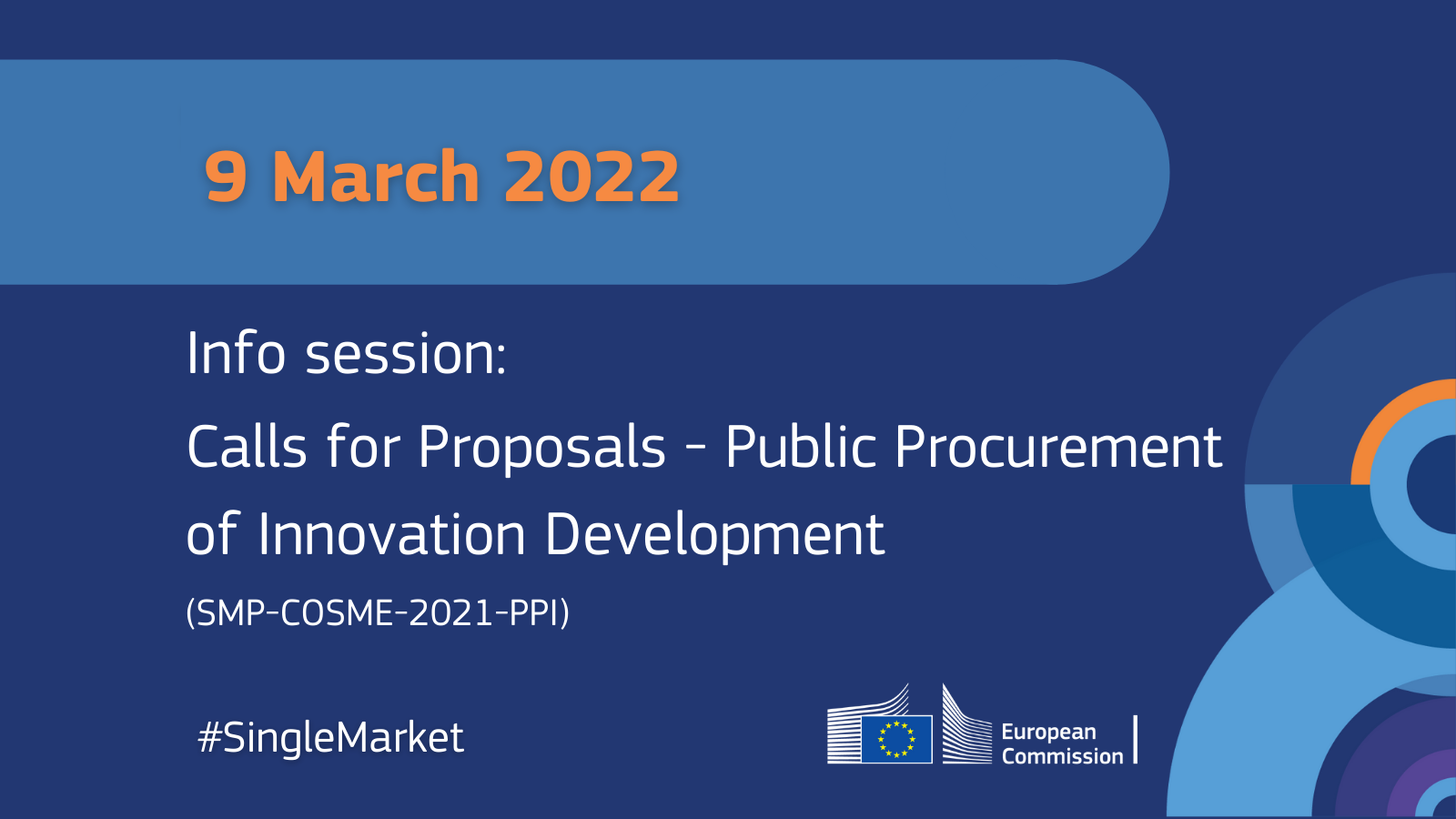 The online information session on the Call for Proposals: Public Procurement of Innovation Development (SMP-COSME-2021-PPI) took place on 9 March from 10 AM to 12.30 PM (Brussels time).