Details
Status

Publication date

16 December 2022

Opening date

Deadline model

Single-stage

Deadline date

16 January 2023, 17:00 (CET)
Description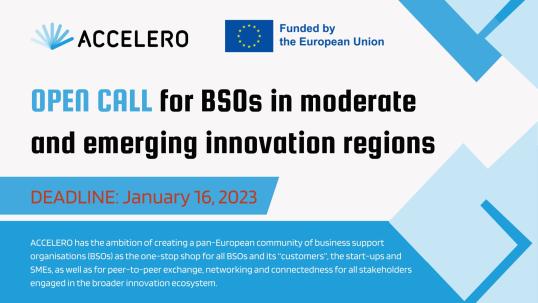 European Innovation Ecosystems project "ACCELERO – Accelerating Local Innovation Ecosystems in Europe" aims at reversing the unbalanced business activity in Europe by increasing the attractiveness of (less advanced) ecosystems. The objective is to make 'modest' and 'moderate' innovation ecosystems more attractive to local start-ups, that will benefit from a strong local support, and to international companies interested in setting up their businesses outside the established and well-known centres.
Through this open call, ACCELERO will select 10 Business Support Organisations, in moderate and emerging innovative regions, to participate in an ambitious programme of four main phases based on the service design process: 
Discovery: needs analysis of the selected Business Support Organizations
Definition: identifying a set of key services already developed and implemented in regions labelled as "Innovation leaders" and "Strong innovators" to be implemented by the selected BSOs in their regions.
Development: co-creation of business acceleration services according to the results of the needs-analysis.
Delivery: piloting and testing of the co-created services. 
The final objective of this programme is to help emerging/moderate innovator intermediaries improve the quality of business acceleration services by providing and co-creating top services based on local needs and pilot-testing them. At least 7 of the selected BSOs will be located in emerging innovating regions.
Deadline for applications is 16 January 2023.
For more information check the call document.