Details
Status

Publication date

Opening date

Deadline model

Single-stage

Deadline date

20 July 2022, 17:00 (CEST)
Description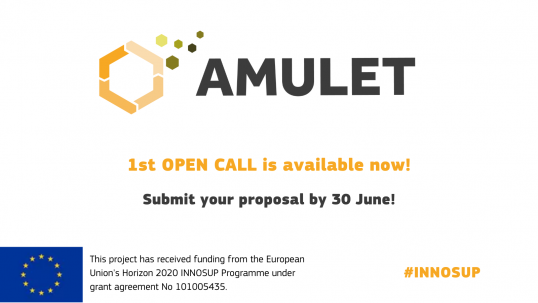 The Advanced Materials & Manufacturing United for LightwEighT (AMULET) project aims to benefit from the innovation potential of SMEs that will be creating new value chains by fostering the penetration of advanced lightweight materials in industry. AMULET will focus on the following three advanced materials: light metal alloys, ceramic matrix composites, polymer-based composites, and their implementation in four sectors: automotive, aerospace and aeronautics, energy, and building.
With this first call, AMULET will select up to 36 projects invited to a jury day, from which up to 26 will pass to the AMULET programme support services, and out of them, up to 7 will complete the full programme, following a funnel approach:
- up to 26 consortia (2-3 SMEs) to submit a feasibility study: €23,000 
- up to 7 consortia (2-3 SMEs) to demonstrate their solutions: €80,000 
- up to 7 consortia (2-3 SMEs) to get follow-up support services: €17,000 
The Amulet consortium will organize 3 official networking opportunities for SMEs interested in participating in the first open call. SMEs will be able to participate in three info days and use the Eventtia matchmaking platform to meet other companies to work together on their project.
For more information, please visit AMULET's website.