Details
Status

Publication date

Opening date

Deadline model

Single-stage

Deadline date

6 July 2022, 17:00 (CEST)
Description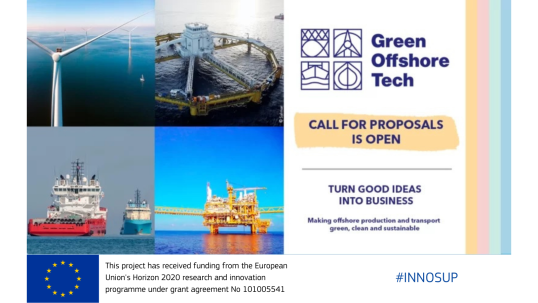 GreenOffshoreTech's main purpose is to support innovation in small and medium-sized enterprises (SMEs). It fosters the development of the emerging Blue Economy industries by enabling new cross-sectorial and cross-border value chains based on shared challenges and the deployment of key enabling technologies (KET).
GreenOffshoreTech will facilitate the creation of new products, processes or services with the ambition to make offshore production and transport green, clean and sustainable towards a resource-efficient economy, in line with the EU Green Deal, while facing reindustrialization.
This call for proposals aims to support SMEs and the development of new products, processes, or services for Green Offshore Production and Transport, with a total budget of  €1.5 for 50 SME-driven innovation projects.
The selected SME-driven innovation projects will each receive direct funding of up to €60,000 as a lump sum, with no need to report costs.
In addition to the financial support, each selected SME-driven innovation project will be supported by tailored Business Support Services and an Open Space for Innovation to enable cross-sectoral and cross-border collaborations, to ease new market access, and to accelerate the market uptake.
For further information, please visit GreenOffshoreTech's website.