Details
Status

Publication date

Opening date

Deadline model

Single-stage

Deadline date

19 April 2023, 17:00 (CEST)
Description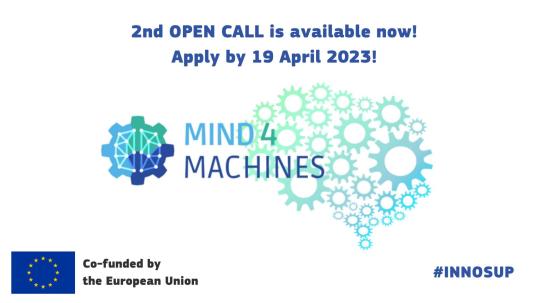 With a dedicated budget of €1.62 million for this second open call, MIND4MACHINES aims to support a minimum of 18 sub-projects managed by manufacturing SMEs, within the two financial schemes detailed below, split according to the targeted technology readiness level (TRL) of the solution proposed:
I. INNOVATION SUPPORT - Testing and validating Industry 4.0 solutions [TRL 5-7]
II. GO-TO-MARKET SUPPORT - Innovative solutions demonstration and scalability [TRL 8-9]
Activities such as prototyping, testing, demonstrating, piloting, large-scale product validation, technical consultancy, market replication and other services can be funded for a maximum duration of nine months. 
The main objective of the call is to raise the efficiency and competitiveness of the manufacturing industry by adopting the latest digital technologies for a smarter and greener transformation aligned with the latest EU policies.
The present MIND4MACHINES Call funds the development, testing, validation and market uptake of INDUSTRY 4.0 solutions by increasing the TRL level/maturity of the proposed solutions in delivering innovative goods, services and processes.
Complementary to the grants received from the MIND4MACHINES Open Calls, funded SMEs will benefit from tailor-made acceleration support services. These services will be delivered by the project partners in the shape of training, coaching and mentoring sessions to support the maturity increase of the proposed Industry 4.0 idea as well as the business development of the SME applicant.
For the Guide for Applicants and further information on the call, please visit MIND4MACHINES website.