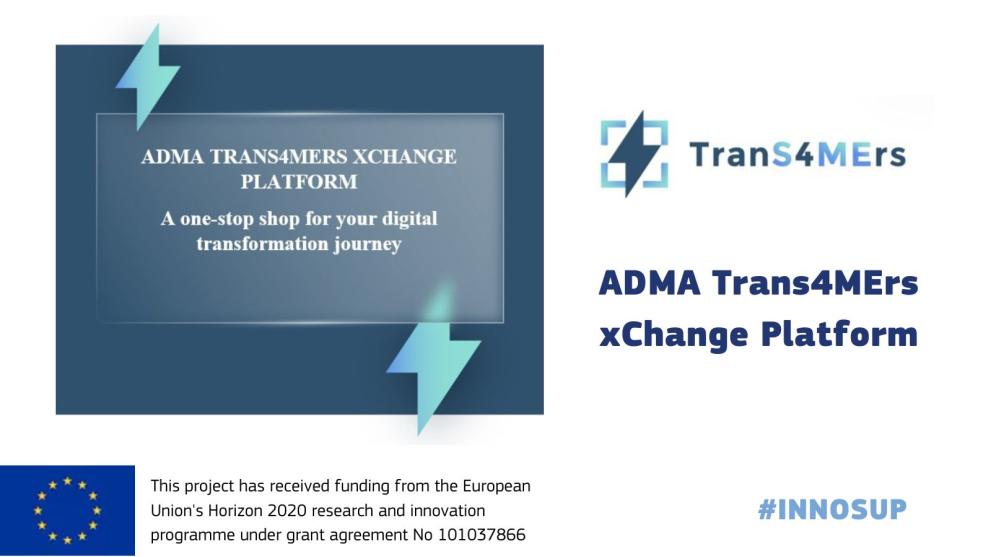 The xChange Platform is a collaboration space offering tailored experiences and journeys to:
ambitious manufacturing small to medium-sized enterprises (SMEs) looking to start their digital transformation journey,
experts in digital and advanced manufacturing – the TranS4MErs
innovative service providers who want to join the ADMA TranS4MErs programme and boost the digital transformation of the European manufacturing industry.
What's in it for SMEs?
Register for the ongoing ADMA TranS4MErs first Open Call, to receive up to €5000 worth of support to boost your digital transformation journey. As part of the support offered, you will choose a TranS4MEr (a certified service broker/advisor) and collaborate with them to develop a customised transformation journey on the xChange Platform including:
Review the SMEs results of the ADMA TranS4MErs scan with support from their dedicated TranS4MEr
Benchmark the SMEs performance using the seven transformation areas (Advanced Manufacturing Technologies; Digital Factory; ECO Factory; End-to-end Customer focused Engineering; Human Centred Organisation; Smart Manufacturing; Value Chain Oriented Open Factory)
Design the SMEs very own Transformation Plan
Identify concrete and tailored KPIs and goals for the SMEs business transformation and a wish list of services and tools most apt to address their needs.
Start your Transformation Journey Now!
Submissions for the first Open Call have been extended until 18 January 2023, 17:00 CET. This is a good chance for European SMEs active in manufacturing to receive qualified, top-notch innovation support to get digitalised and take the next step towards becoming a Factory of the Future.
The registration takes less than 5 minutes to complete
Registrations to the Open Call are accepted on first come/first served criteria
Find more information by visiting our open call page
Starting from February 2023, SMEs will be able to continue their transformation journey by registering for the Revamp phase of the ADMA TranS4MErs first Open Call, awarding up to 40 hours of support (and funding for outstanding applications) to spend on the services on their wish list.
TranS4MErs
The ADMA TranS4MErs provide top-quality assistance to manufacturing SMEs across Europe.
The TranS4MErs are trustworthy service brokers and experts in digital and advanced manufacturing who support and guide SMEs throughout their digitalisation journey.
To join the network and earn the Quality Mark to be able to support SMEs, complete the TranS4MEr I onboarding training on the xChange Platform.
The onboarding consists of three e-learning modules covering the ADMA TranS4MErs methodology and tools and one live webinar with an expert from the consortium. Once the ADMA TranS4MErs Quality Mark has been received, connections with SMEs can be made to support their transformation journey.
Service Providers
Service provider can offer their innovative services and tools to enable the digital transformation of manufacturing SMEs, on the xChange Platform.
The xChange Platform collects a wide range of high quality and certified transformation-related services for SMEs. To display your offering and connect with companies and TranS4MErs from across the EU, create a sample of your services for the experts' evaluation. Once your profile is approved, your organisation will be awarded the Quality Mark and be able to upload your services to the catalogue for all companies to select as part of their transformation journey.
Background information
ADMA TranS4MErs is an EU-funded project aiming at driving the transformation of European manufacturing SMEs into Factories of the Future by providing top-quality assistance and training in digital and advanced manufacturing.
For more information, visit ADMA TranS4MErs' website.
Details
Publication date

22 December 2022

Author