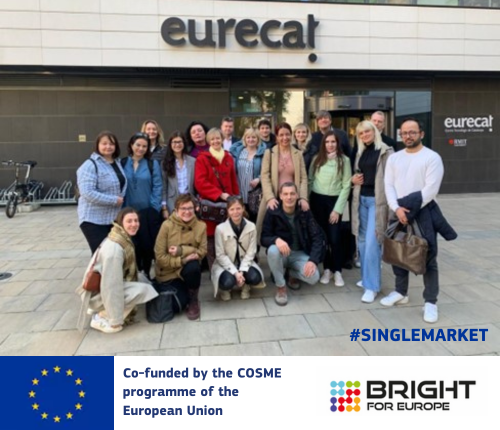 A delegation of six representatives – all women due to the war - of the Ukrainian Cluster Alliance (UCA) and health clusters members of the alliance took part in a 5-day ClusterXChange organised by Biocat, within the EU co-funded European Strategic Cluster Partnership for cluster excellence BRIGHT.
In the framework of this exchange, the delegation actively participated in the 1st Barcelona Health Innovation Week, profiting from a "deep dive" into the life sciences and healthcare ecosystem of Catalonia.
The event featured the official presentation of the 2022 BioRegion Report in Barcelona, attended onsite by over 600 people from the sector. This was followed by four round tables with different experts from the sector, addressing subjects such as the services offered to SMEs by large infrastructures, fast-track models for adoption of innovation, barriers and enablers for European Health Data Space deployment or how to promote Advanced Therapies across the EU. Finally, the afternoon 'European clusters dialogues for transformation' brought together more than 100 experts from the sector to discuss Europe's challenges on digital transformation (including BRIGHT consortium partners), clusters' role in EU resilience, biomanufacturing value chain,  and sustainability. Speakers represented the European Commission, the Council for European BioRegions, the Ukrainian Cluster Alliance and several clusters partnering with Biocat in EU-funded projects. 
The exchange received great support and enthusiasm by all stakeholders involved and resulted in finding opportunities and potential partners for the Ukrainian delegation in the future reconstruction of the country's health system.
More info on the ClusterXchange mission to Barcelona
For more information on the mission and a detailed description of all involved stakeholders - policymakers and representatives of civil society, industry and academia – that the delegation met, read the full length news.
More info on ClusterXchange
ClusterXchange (CXC) is a programme aiming to support short-term exchanges to better connect industrial ecosystems in Europe. It foresees the facilitation of transnational cooperation, peer learning, networking and innovation uptake between members of industrial clusters. It is implemented with support from Cluster Organisations that have teamed up as  European Cluster Partnerships | Excellence (Partnerships).
Details
Publication date

19 April 2023

Author