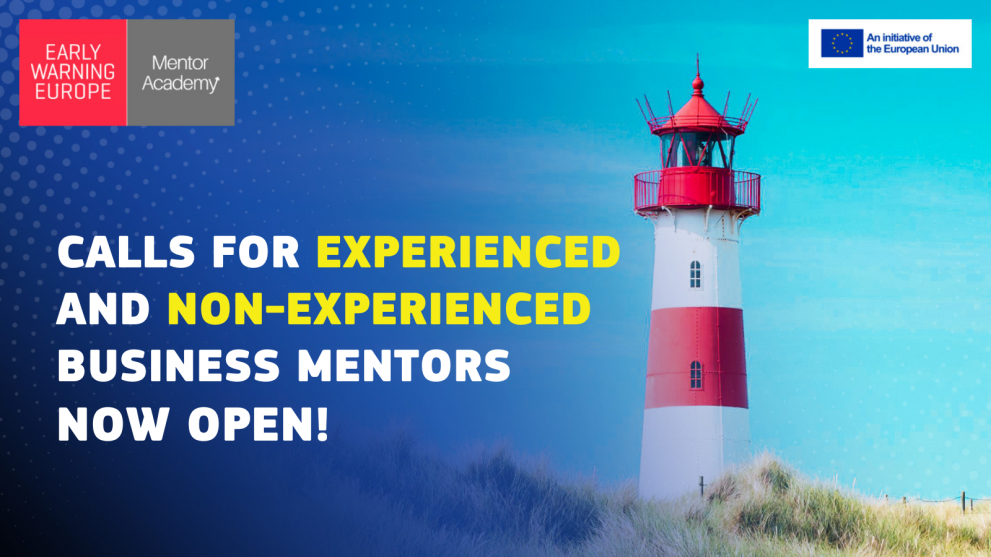 In recent years, due to the Covid crisis, the war in Ukraine resulting in the disruptions of supply chains, the global financial and energy crisis, entrepreneurs throughout Europe are under more pressure than ever.  Therefore, the Early Warning Europe Mentor Academy - the EU initiative aiming at Improving the Availability and the Scope of Services for Companies in Financial Difficulties - is looking to upskill and expand the network of mentors to support companies in distress.
To do this, we are looking for experienced mentors who are already working with companies in distress and for the new ones that would be willing to join the community of mentors and learn how to best support entrepreneurs in crisis.
The EWE Mentors Academy will organize a series of in-person and online workshops featuring peer-learning activities to develop an EU training programme for mentors. It will also create an online learning platform and facilitated sessions designed to expand and enhance the availability of high-quality early warning services for entrepreneurs across Europe.
Call for experienced mentors
If you are a business mentor  interested in helping entrepreneurs experiencing difficulties and at risk of insolvency, we invite you to work with us and participate in the development of a state-of-the-art European training programme for mentors.
If selected, you will join EWE Mentor Academy activities, including a series of events.  
For the first workshop, which will take place in Athens, we are currently seeking applications from experienced mentors with different backgrounds.  
Interested? Apply by 16 September 2022!
Call for non-experienced mentors
EWE Mentor Academy will offer a unique opportunity to join the community of the European mentors for companies in distress.
You will learn from and with the best experts across Europe, how to support entrepreneurs in crises. You will also play a valuable role to help your economy in preserving jobs.
Do not miss the chance to learn new skills and expand your network. Apply by 16 October 2022!
Call for non-experienced mentors

About the initiative
The Early Warning initiative was first established in 2008 in Denmark as a response to the financial crisis. Its key for success was a group of skilled and experienced voluntary mentors who were able to motivate and support the entrepreneurs to turn their business around. Early Warning Denmark has since helped over 5,500 Danish SMEs.
In 2016, the European Commission COSME program co-founded the European project 'Early Warning Europe' that was implemented in four different countries: Italy, Greece, Poland and Spain. They benefited from an exchange of best practices developed and tested in Belgium, Denmark and Germany. The Early Warning Europe initiative provided business intermediaries with tools to support companies in distress, trained 1,000 mentors and provided support to 3,600 enterprises.
After the previous success of the initiative, the current European Union Initiative "Early Warning Europe Mentor Academy" focuses on improving the availability and the scope of services for companies in distress by mobilising experts and mentors across Europe, training them and ensuring expertise exchange, while at the same time linking them with other European networks providing services to SMEs.
The project aims at creating the modular training programme for business mentors working with companies in crises and in other decisive moments of their lifecycle (e.g. transfer of business ownership). The programme will be created based on the input of the experienced and new mentors, co-created during the peer to peer exchanges. Experienced mentors will provide key expertise, good practices and share practical insights for the design of a training programme structure and its content.
Mentors that are new to the area will be the primary users of the modular training programme. Later on, both experienced and non-experienced mentors will act as trainers for other mentors in their respective countries, using the elaborated modular training programme. The project will contribute to the dissemination and transfer of best practices in helping SMEs in distress and more specifically enhancing the competences and skills of mentors. 
The Early Warning Europe Mentor Academy is an EU initiative implemented by the consortium led by AARC (Ireland), with Erhvervshus Midtjylland (Denmark) and FFR (Poland).
Details
Publication date

10 August 2022

Author