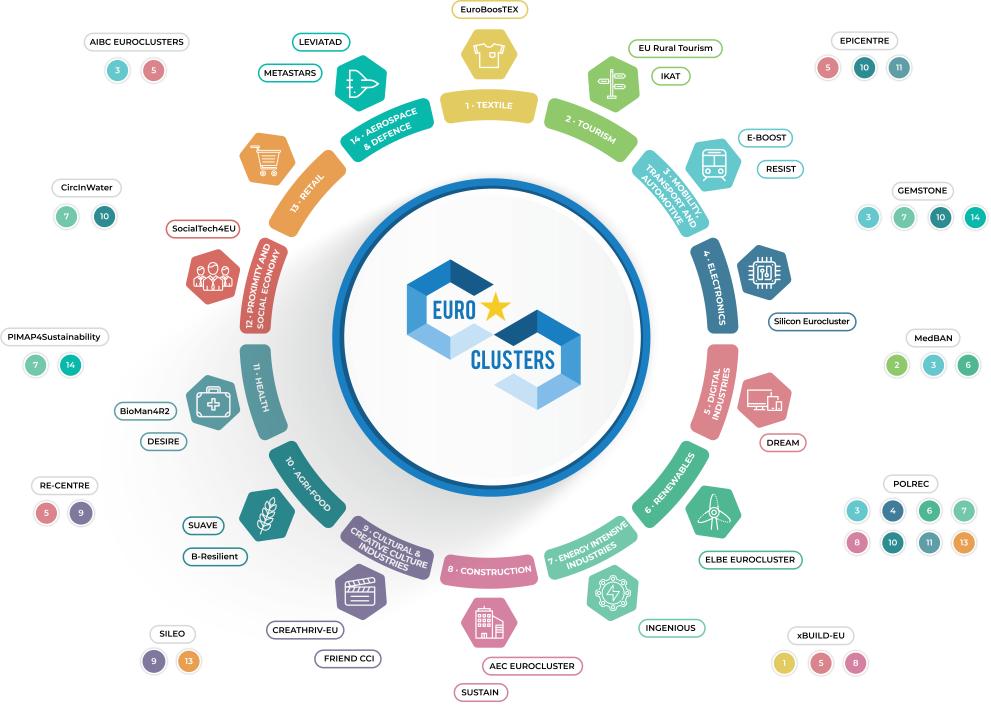 As of March 2023, 11 out of 30 existing Euroclusters, funded through the Single Market Programme, have already published their first calls for financial support to third parties.
What are the EUROCLUSTERS?
Euroclusters are cross-sectoral, interdisciplinary and trans-European strategic initiatives gathering industry clusters and other economic actors, such as research organisations, companies, etc. to implement the EU Industrial Strategy. They will create new business opportunities for SMEs and integrate them better in European and global strategic value chains.
The Euroclusters build upon European Commission's experience with the 4 strands of "European Cluster Partnerships", supported under Horizon 2020 (Innovation) and COSME (Internationalisation, Excellence and Smart Specialisation Investments).
Background
On 1 of September 2022, 30 Euroclusters have been launched: they are composed of 171 partners overall andcover 23 different countries (of which 22 are EU Member States) and all 14 industrial ecosystems.
20 Euroclusters work on concrete initiatives in specific industrial ecosystems, while 10 Euroclusters work across several industrial ecosystems.
Objectives
The Euroclusters contribute to building resilience and accelerating transition to green and digital economy through 6 specific objectives:
Network to improve the resilience of the EU industrial ecosystems by developing value chains interlinkages in the EU Single Market;
Innovate for strategic autonomy to build capacity in the most critical supplies and technologies of their ecosystems;
Adopt processes and technologies to reinforce transformation into a greener and more digital economy;
Train to foster up- and re-skilling of the workforce whilst attracting talents;
Go international to boost access to global supply and value chains;
Outreach to attract economic actors, mainly SMEs, beyond Euroclusters' locations.
The Euroclusters will seek to achieve these objectives through the management of cascade calls which will provide financial support to selected third parties. All Euroclusters will launch one or more calls for proposals in order to provide SMEs in the various industrial ecosystems with the tools and services that are needed to reach these ambitious objectives. The overall budget for the cascading calls published in the coming 2-3 years from the 30 ongoing Euroclusters will amount to more than 30 million euro.
Open calls
The first open calls for financial support to third parties, launched by 11 Euroclusters, are as follows:
To find all the Euroclusters open calls and get more detailed information on how to apply, you can check the dedicated page  on the European Cluster Collaboration Platform  (ECCP).
You can also follow the ECCP via their Social Media accounts onTwitter  and  LinkedIn and subscribe to the monthly ECCP newsletter.
Details
Publication date

29 March 2023

Author