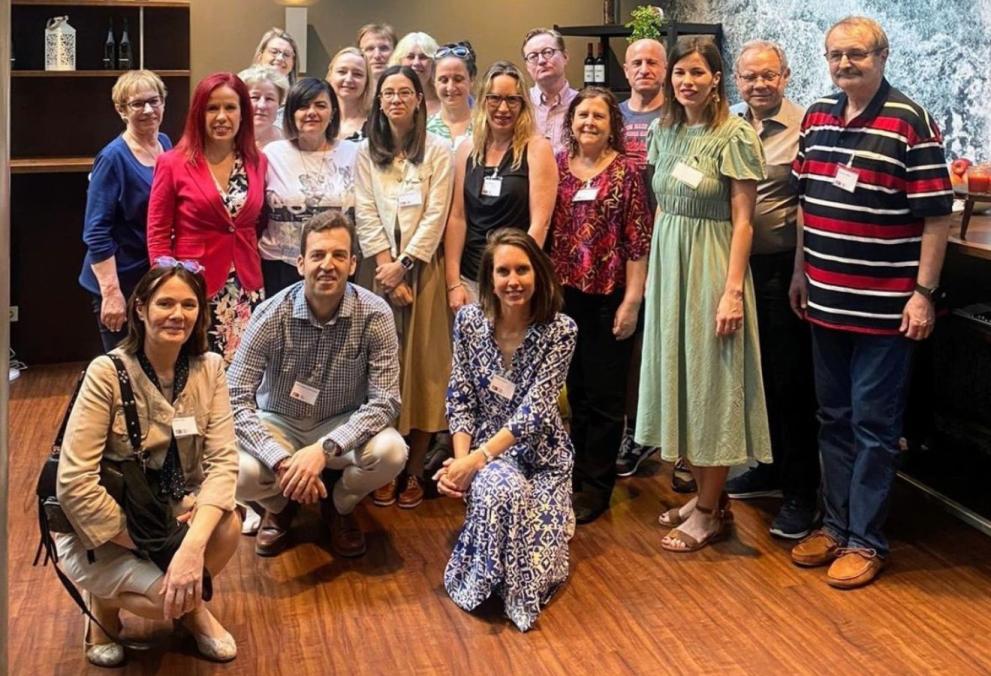 Joining forces with the European Patent Office (EPO), the European IP Helpdesk organised a two-day training for their European IP Helpdesk Ambassadors in Munich from 28 to 29 June 2023, bringing together 25 Ambassadors and European IP Helpdesk team members both on-site and online.
Boasting a great line-up of high-level speakers from the EPO, the event's agenda covered a multitude of aspects, including a 'how to' enforce patents, IP in sustainability and international business, and a specific focus on a deep dive into the new unitary patent and its benefits for small- and medium-sized enterprises (SMEs). The programme was complemented by updates on the PATLIB network, emphasising its role in providing access to patent information and services across Europe, as well as insights into the EPO-led High-growth Technology Business initiative, which aims to support and promote technology-driven businesses with high growth potential. On the second day, the focus of the meeting shifted to internal discussions and updates on recent and upcoming activities of the European IP Helpdesk and the Ambassadors team.
The European IP Helpdesk Ambassador scheme is a unique cooperation between the European IP Helpdesk and the Enterprise Europe Network (EEN), consisting of over 40 Intellectual Property (IP) experts representing various EEN member organisations across Europe. Initiated by the European IP Helpdesk ten years ago to improve outreach about IP in different EU regions, the European IP Helpdesk Ambassadors play a significant role in supporting SMEs in their international endeavours by providing them with valuable resources, guidance, and networking opportunities.
"The European IP Helpdesk Ambassador scheme is a true success story: over the past ten years, close to 100 IP experts from the Enterprise Europe Network contributed to this very effective IP capacity-building programme. Through our ambassador network, we've reached out to more than 25,000 SME clients throughout Europe," said Jörg Scherer, coordinator of the European IP Helpdesk.
Following the recent signing of a letter of intent between the EPO and the European Innovation Council and SMEs Executive Agency (EISMEA), which manages – among many other initiatives - the European IP Helpdesk and the Enterprise Europe Network, the recent training in Munich is another example of the strong ties between all parties and their shared vision of nourishing a vibrant innovation ecosystem in Europe.
Indeed, the European IP Helpdesk and the EPO collaborate on various lines of activity, such as joint training sessions dealing with IP for beneficiaries of EU-funded programmes or the creation of "From Lab to Market" case studies, podcasts and workshops highlighting the importance of IP in technology transfer and valorisation processes.
For more information and updates on the European IP Helpdesk and the Ambassador scheme, please visit: www.ec.europa.eu/ip-helpdesk
Details
Publication date

28 July 2023

Author