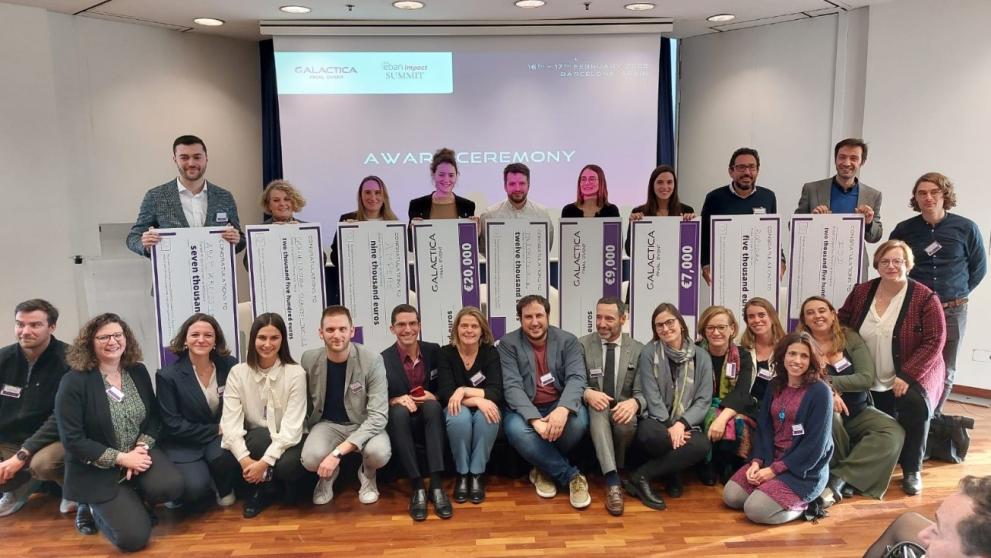 The event opened with a focus on GALACTICA's achievements and the new value chains generated by the project. New funding opportunities and open calls were also announced by members of the project (further information is available in the GALACTICA's newsletter, under "funding opportunities").
Pitching Competitions
The event included 2 pitching competitions: one for 5 Orbital projects (MVRPT, NOC-STRUT, SolarCube, Iroony, AMPERE) and one for Pioneer Acceleration projects (ABEP, certBLOC, rCF, Impact protection, BiomX).
The Orbital Projects had received financial support - through GALACTICA - for connecting different sectors (textile, aerospace, advanced manufacturing) with initial market tests of products and services.
The jury members awarded SolarCube, a consortium that creates Origami-inspired deployable solar panels, with €20 000 and two runners up (Iroony and AMPERE) with €9 000.
The Pioneer Acceleration projects had received support for the exploration of new cross-sectoral value chains with a focus on developing a Minimum Viable Product (MVP).
The winner of the second competition, Impact protection, is a project which developed a composite with a higher capacity to absorb and dissipate energy. It was awarded by the jury with €12 000 and the two runners up (ABEP and rCF) with €7 000 each.
During the event, 20 GALACTICA funded projects were also showcased at an exhibition and 3 of them were rewarded for the way they presented their results (ROBOCORK,CIRCULAR FUNTIONAL,IDD - INFLATABLE DE-ORBIT DEVICE).
Background Information
GALACTICA project received funding from the European Union's Horizon 2020 research and innovation programme. The project is a cross-regional partnership across eight EU countries that involves: eight innovation clusters from advanced manufacturing, aerospace, and textile industries; one investor network and one business incubator and accelerator.
The project fosters the creation of unidentified or unexplored market opportunities for existent and new companies in developing latent and emergent value chains. It overcomes information and market failures by gathering together companies from diverse industrial sectors, R&D organisations, clusters, and triggering initiatives for establishing new value chains across textile and aerospace industries.
Related links
Press release on the final event
Details
Publication date

23 March 2023

Author