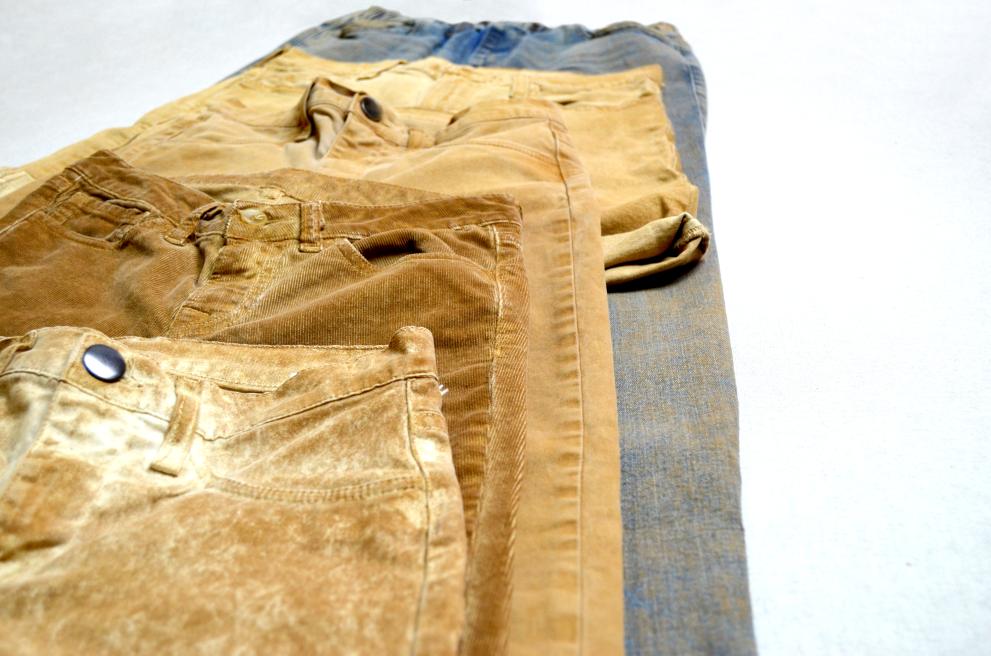 Nothing to waste! Almost every bottle that pops today has a cork stopper. That stopper, which usually goes unnoticed, is one of the best Super Materials that nature never invented. That's why there is growing number of designers experimenting with recycled cork, giving a new life to a disposed material.
As part of an ambitious European partnership between Lebiu Design, an innovative design company based on the island of Sardinia and the eco-friendly garment processing team at Care Applications in Alcoy (Alicante), a new line of eco-fabrics and vegan skin for design has been introduced. And cork waste is the main ingredient.
The garment industry is one of the biggest carbon polluters and waste producers worldwide. New technologies are needed to reduce water and kilocalories consumption, limit dyeing time and create a safe working environment. Nanocork is a concrete example of EC policy on circular textiles.
In an interview, Fabio Molinas, the co-founder & CTO of LEBIU, tells us about the technology behind this vegan fabric and how the European light industries innovation and technology (ELIIT) project has helped to boost their role in the textile, clothing, leather and footwear industries.
What challenge are you tackling?
The challenge we wanted to overcome was mainly to provide environmentally friendly garments with improved performances and aesthetic features taking advantage of the property of cork residue, processed through the micro-nebulisation technology called ECOFinish from Care Applications.
This way, we achieved a sustainable finish, called Nanocork, or bio-denim made out of recycled raw materials reducing the use of water, chemicals and energy. We are also providing a bio-based Cork skin for the fashion industry, always looking for green alternatives without renouncing style.
What key breakthrough technology was developed?
It's our ability to apply a natural finish without full immersion in water, and with the use of the least number of chemical products, and the low use of energy represents an innovation in the field of the textile industry, which is the second most polluting activity in the world. The fact of using natural resources, without damaging the environment, makes this partnership the perfect collaborator to finally close the production cycle of a garment. There is no other equivalent type of process on the market.
Care Application's ECOFinish technology can micronise the water droplets and the product until achieving a misty effect. This allows the controlled diffusion of the nebulised cork solution on the material obtaining reproducibility and quality. ECOFinish can potentially be installed in existing machinery.
What are the social or economic benefits arising from this technology?
Thanks to stringent international laws, and increased awareness among young people, who are very sensitive to the issue of climate change, the public is starting to appreciate ethical products. There is also the need for brands to propose green and eco-conscious materials to meet the demands of a new wave of consumers concerned about what they buy, valuing 'how it's made' as well as the final product.
On the other hand, recycled cork can help companies in the cork industry by obtaining another source of income, become more sustainable, create rural-local employment and set the population in rural areas, thanks to the textile industry, and vice versa.
It allows significant savings in textiles production. The cork finish can cover some dyeing production defects, and re-cover old clothes, giving more structure and fixing fraying on the fabric. Also, no people, animals, rivers, or land are harmed in the process.
What has been the outcome of ELIIT project support?
Thanks to ELIIT, LEBIU will be ready to market the new finish, using an innovative technology to produce bio-denim clothes. This has been essential to help Care Applications investing in upgrading its technology for cork application and LEBIU to install the ECOFinish for Nanocork's prototype in its laboratory in Sardinia.
Europe's programme for small and medium-sized enterprises COSME has helped create synergies between a technology provider and a SME, that have allowed the technology to move from technology readiness level 6 (demonstration) to level 8 (system complete and qualified).  This has been possible thanks to providing a grant of EUR 70 000 and technical support. 
Details
Publication date

26 July 2022

Author