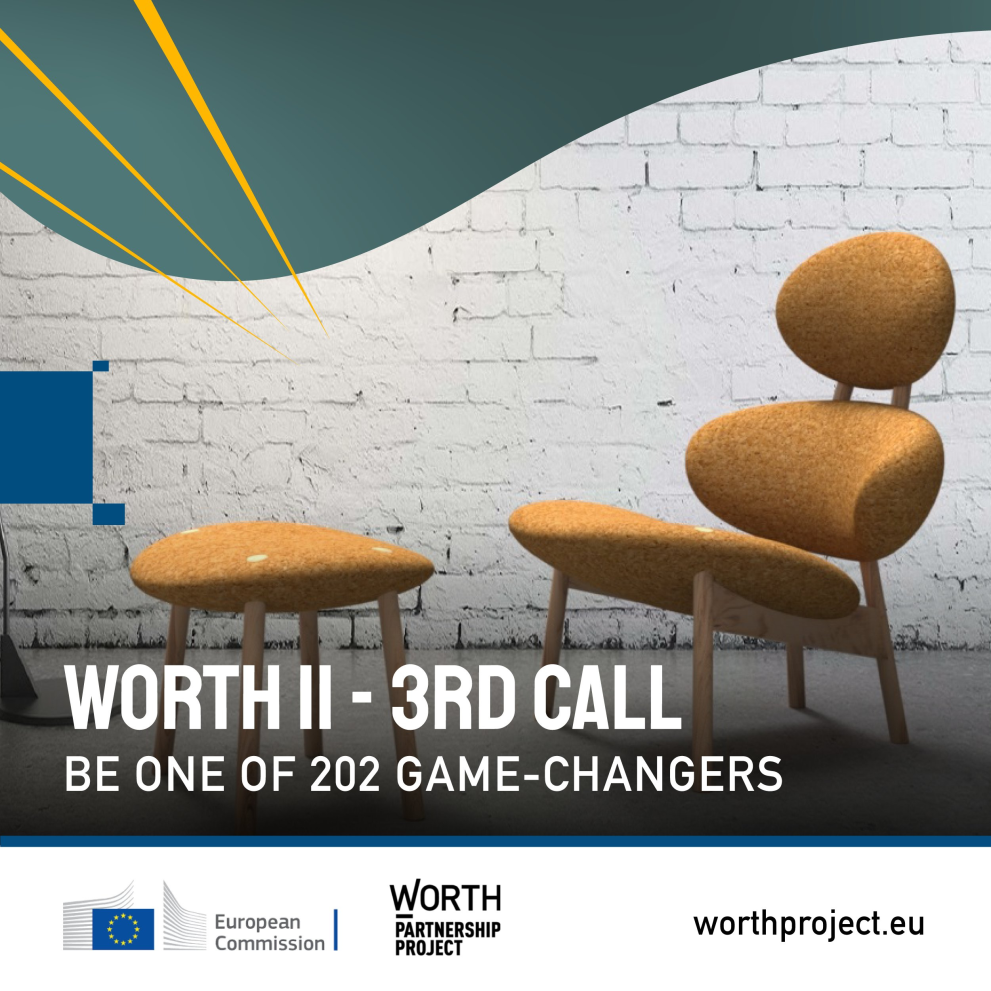 The WORTH II partnership project, the largest incubation program dedicated to European creatives, has opened its third call,  with the deadline for submitting proposals till 27 November 2023. This EU initiative aims to foster collaboration and support innovators across various areas, including designers, manufacturing SMEs, artisans/producers, and technology companies operating in lifestyle industries. These areas include textiles& fashion, footwear, leather and fur, furniture and home decor, architecture and interior design, jewellery, and accessories.
The call invites individuals and organisations passionate about innovation to submit proposals for partnership projects that fall into at least one of the following thematic areas: circular economy, digital manufacturing, high-added-value solutions, high-performance and innovative materials, craftsmanship, and social innovation. The evaluation will be performed with the support of a Steering Board of experts from the design and lifestyle industries.
The benefits the selected projects will get from the WORTH II partnership project are substantial, with a total value of €60,000, including:
Initial financing between €10,000 and 20,000 for the project's development.
A tailor-made mentoring program.
A comprehensive media kit, including international media relations, advertising, and social media marketing.
Participation in two international design events for global exposure. Opportunities for cross-sector collaboration and participation in networking events.
Greater visibility of their professional profile on the WORTH Gallery.
For all interested in learning more about this exciting opportunity, detailed information on how to participate in the call will be provided during an information session organised on 8 November at 11:00.
Learn more about WORTH Partnership Project
and start your application process today!
For media inquiries, please contact:
Giovanni Cellini +39 333 2146 503
Sabrina Duarte +39 388 9589 718
What is the WORTH Partnership Project
The WORTH Partnership Project aims to create cross-border and cross-discipline collaborations between designers, crafters, SME manufacturers, tech-firms and start-ups across EU-27, UK or COSME countries, to develop unique, innovative products, services or business ideas in the following sectors: fashion and textile, footwear, fur and leather, furniture/home decoration, interior design/architecture, accessories and jewellery.
WORTH is about creating transnational partnerships and supporting design-driven projects/ideas, wherein the added value strongly lies in design concepts by integrating disruptive techniques and sustainability in a creative way. We develop a vibrant community of creatives, visionaries, artisans, and industry leaders who through WORTH embark on a journey to push boundaries and create remarkable products or business ideas with a lasting impact. They bring their creative ideas to life and acquire entrepreneurial skills.
152 innovative projects were awarded in the previous edition of WORTH I and up to 202 projects will be supported by WORTH II edition until 2025.
WORTH Partnership Project is an initiative of  the European Union financed through the COSME programme.
Details
Publication date

20 October 2023

Author