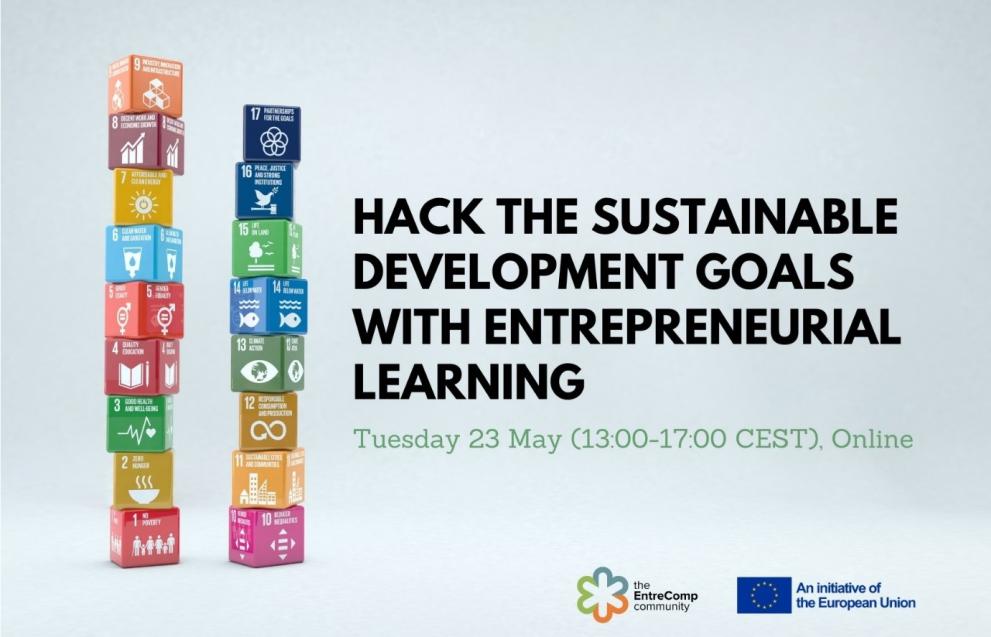 EntreComp Synergies, an initiative of the European Union, is delighted to open registration for its annual hackathon.
EntreComp for SDGs is a half-day online event taking place on 23 May (13:00-17:00 CEST). The hackathon will gather educators and professionals from the educational and entrepreneurial fields to work together and create solutions for reaching the Sustainable Development Goals (SDGs) through the EntreComp Framework. Together they will explore the why and how of using EntreComp to support young people to innovate, start businesses, and generate their own employment opportunities.
Participants will be grouped and tasked with the challenge of finding an innovative training idea to achieve one of the following SDGs:
Quality Education (SDG 4)
Gender Equality (SDG 5)
Decent Work and Economic Growth (SDG 8)
Each group will have two hours to develop a training idea related to a chosen SDG and develop it using a Business Model template provided by the organisers. Facilitators will support the teams, but they will work with full autonomy to build their projects. Finally, each team will pitch their training idea to a Jury of experts in the entrepreneurial field, including Ms Dana Puia Morel from the European Commission (DG Grow). The best idea will be chosen by all the participants through live voting and awarded a special prize.
Due to the interactive nature of this event, participation is limited. We encourage you to register as soon as possible to save your seat:
The hackathon is hosted by EIT Raw Materials, and supported by  Bantani Education, All Digital, EIT Food, Materahub  and PEEP. 
This event is part of "Achieving Synergies and Champions in the Implementation of the European Entrepreneurship Competence Framework", otherwise known as EntreComp Synergies, an initiative funded by the European Union. The information and views set out in the event are those of the project partners only and do not necessarily reflect the official position of the Contracting Authority or the Commission. Neither the Contracting Authority nor the Commission can guarantee the accuracy of the data included in this event. Neither the Contracting Authority, nor the Commission or any person acting on their behalf may be held responsible for the use, which may be made of the information contained therein.
To learn more about how EntreComp Synergies process personal data, please refer to the Data Privacy Notice
Details
Publication date

4 May 2023

Author