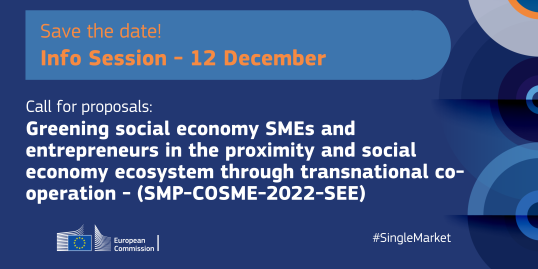 On 12 December 2022, the European Innovation Council and SMEs Executive Agency (EISMEA) and the Directorate-General for Internal Market, Industry, Entrepreneurship and SMEs (DG GROW) are organising an informative webinar to learn more about the Single Market Programme Call for Proposals titled "Greening SMEs in the proximity and social economy ecosystem through transnational co-operation".
The main objective of this call for proposals is to green the processes and activities of SMEs in the social economy by boosting the development of sustainable practices through capacity building, knowledge transfer and transnational cooperation. 
The submission deadline is 14 February 2023, 17:00 CET. For more information about the calls check the Call page and the Funding & tender opportunities portal (link).
The focus of the session will be general information about the call's policy context and its technical and financial provisions, with explanation of the application process. The session will also include a presentation by one of our projects coordinators on best practices in building an effective consortium and a successful proposal. Registrations are now open, click on the register button below if you want to attend. 
social economy

Monday 12 December 2022, 10:00 - 12:30 (CET)
Programme
12 Dec 2022, 10:00 - 10:10 (CET)

Welcome, introduction, housekeeping rules

Moderator: Ramunas Kuncaitis, Head of Sector 'Entrepreneurship & Clusters', EISMEA

10:10 - 10:45 (CET)

Background & policy context with Q&A

Speakers: Martin Willemart and Karel Vanderpoorten, Policy Officers, DG GROW, European Commission

10:45 - 11:30 (CET)

General information on the call for proposals (timeline, admissibility, eligibility, submission & evaluation procedure etc.) with Q&A

Speaker: Anna Michalska, Call Coordinator, EISMEA

11:30 - 12:00 (CET)

Financial provisions of the call for proposals with Q&A

Speaker: Milos Stanojevic, Financial Officer, EISMEA

12:00 - 12:20 (CET)

Best practice on how to build effective consortium & successful proposal with Q&A

Speaker: Simona Simulyte, Founder of 'ChangeMakers'ON', Projects Coordinator under 'Erasmus for Young Entrepreneurs' Programme

12:20 - 12:30 (CET)

Closing of the session

Moderator: Ramunas Kuncaitis, Head of Sector 'Entrepreneurship & Clusters', EISMEA
Practical information
When

Monday 12 December 2022, 10:00 - 12:30 (CET)

Languages

English