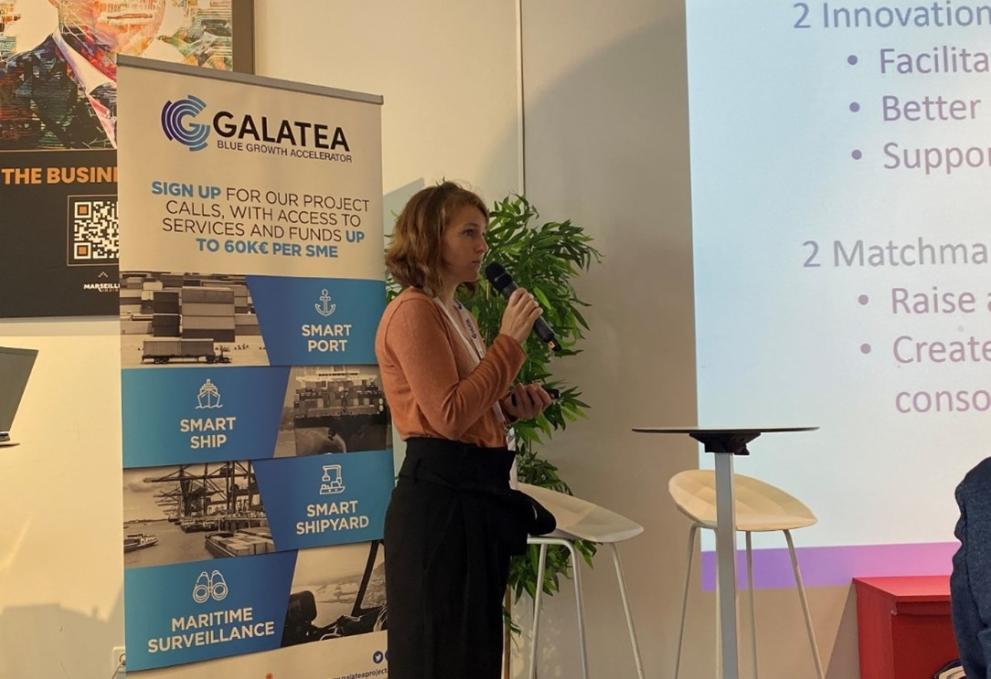 GALATEA, funded under the HORIZON 2020 INNOSUP-programme, aimed at accelerating innovative projects and developing new cross-sectoral and cross-border industrial value-chains. It did so by integrating technologies and know-how from aerospace and digital communities under four high potential Blue Growth domains: Smart Ship, Smart Port, Smart Shipyard and Maritime Surveillance.
On 7 and 8 March 2023, SMEs, end-users, investors and representatives from institutions – mainly local and regional authorities including ports – met in Marseille for the final event and presentation of the project's results:
EUR 2.5 million to 23 innovative projects,  managed by 42 SMEs, in the development of prototypes or demonstrators;
49 coaching/mentoring services provided to 30 SMEs to support their business acceleration.
Panel sessions presenting the innovative projects funded under the 4 Blue Growth domains were also organised. For each theme, funded SMEs were invited on stage to present their project and their development prospects. In each panel session, an end-user presented their own challenges and explained their interest in working with the developed solutions and SMEs.
Then, a Business-to-business (B2B) meeting session enabled SMEs to consider new partnerships, find new funding sources, and meet with potential buyers.
A visit to the "Grand Port Maritime de Marseille" concluded the event. Marseille hosts the leading French port – in terms of traffic of goods – and the 5th largest port in Europe. This visit allowed the participants to discover the ports infrastructures and better understand its challenges and needs regarding innovation.
Background information
The GALATEA project is funded under the HORIZON 2020 INNOSUP-programme.
A unique innovation support scheme for SMEs, the GALATEA project is based on 22 challenges identified by port authorities, local governments, maritime transport companies and other maritime economic actors. The challenges include among others, the development of clean energy sources in ports, digitalisation of ships, autonomous systems, detection of illegal activities, preservation of marine and maritime ecosystems.
Details
Publication date

22 May 2023

Author