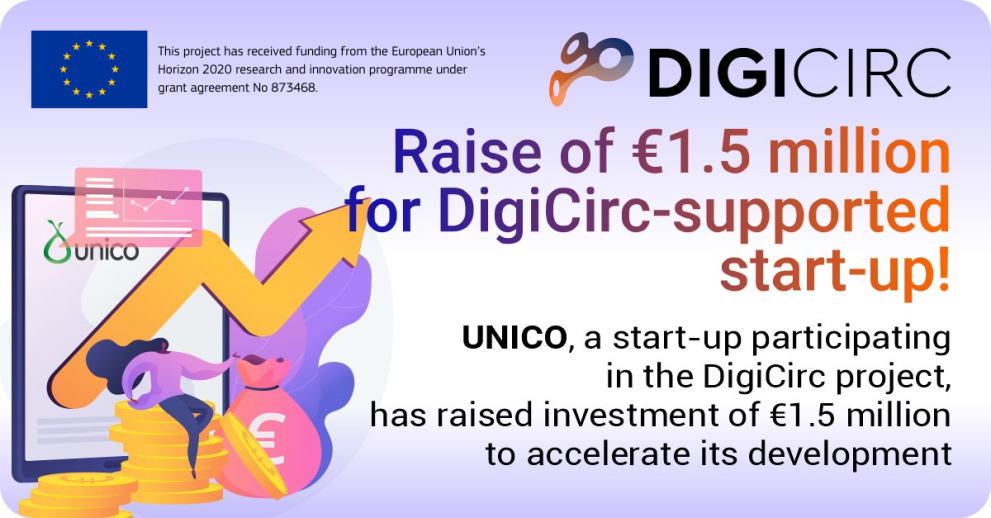 In April 2021, UNICO & AGORIQUE, 2 French start-ups, applied and were selected to enter the H2020 INNOSUP-funded project DigiCirc acceleration programme on Circular Cities, with a solution for the optimisation of waste collection management named "Circumax".
Circumax offers an integrated hardware and Software as a Service (SaaS) solution for retrofitting existing two wheels waste bins with a smart locking and weighing system connected through LoRaWAN (Long Range Wide Area networking protocol) technology. The SaaS encompasses a dashboard for waste bins database management, a module for maps and collection rounds routes generation and a module for Pay as You Throw (PAYT) billing per kilo. Circumax's solution uses existing mutualised two wheels waste bins in collective housing to identify waste production by household.
The benefits are savings on waste management costs for municipalities, reduction on carbon footprint, a better equity on citizens' contribution to waste management services financing and rewards for those with virtuous behaviour (reuse, bulk purchase, avoidance of overpackaging, etc.), since waste is billed on real individual production.
UNICO and AGORIQUE went through the 2 phases of the DigiCirc support programme, which ended in July 2021, during which they made relevant improvement in the development of their minimum viable product (MVP) as well as their business plan. They also obtained the support from the city Issy les Moulineaux for the deployment of their pilot.
In 2022, UNICO announced a fundraising of EUR 1.5 million to accelerate the commercial development of its Saas solution dedicated to the logistical optimisation of waste collection. This new step will enable the company to accelerate its commercial development in France and in Europe to equip more than 400 structures by 2024.
Background information
The H2020 INNOSUP-funded project DigiCirc helps SMEs leverage digital technology to create innovative circular products, services and business models and achieve an EU circular economy. The project brings together potentially high-impact SMEs and creates a new cross-European ecosystem working around the circular economy. It does so by organising acceleration programs and building a community of likeminded stakeholders. Moreover, it developed digital tools to support interested firms. The DigiCirc data hub, for example, lists interesting datasets relating to circular economy, while the matchmaking platform helps SMEs find potential partners.
For further information, visit DigiCirc's website.
Details
Publication date

19 January 2023

Author